Christopher Westerdahl
Director of Instruction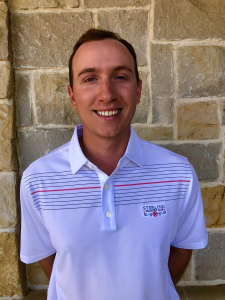 Christopher is from the small town of Coldspring, TX and obtained his Professional Golf Management degree at Sam Houston State University. Chris has taught at many prestigious clubs across the US and was fortunate to shadow under many Top 100 teaching professionals. This allowed him to get many different perspectives on the golf swing which helped shape his teaching philosophy. Chris has taught over 10,000 golf lessons to golfers of all abilities ranging from beginner to scratch. Chris is a Class A member of the PGA and is certified in Eyeline Putting and Dr. Kwons Biomechanics.
Chris states that: "My philosophy for golf is pretty simple. I don't believe in a "text book" golf swing that fits all players. Rather, everyone has their own unique way of swinging the club that will produce the best results for them. I like to look at important fundamentals such as where a player is striking the ground with their club, where on the club face they are striking the ball, and if they're hitting the ball far enough to play the game effectively. I like to see these three things accomplished while the golfer maintains balance and tempo in their swing."
---
Michael Kullberg
Head Golf Professional
BIO to come soon!
Email: mkullberg@houstonnationalgolf.com
Cell: 713.248.7854
---
Tim Krumnow, PGA
Golf Professional
Certified – Instruction
Master Club Fitter, Club Maker, Club Repair
Specialist in Short Game Instruction, Certified Fit-2-Aim Putter Master
Fitter. Instructs in Dave Pelz and Stan Utley Short Game Methods.
Authorized Sack and Tilt Instructor.
Email: pgachamp@aol.com
Cell: 281-755-6162
---
Tanner Rountree
First Assistant Golf Professional & Instructor
BIO to come soon!
Email: tanner@houstonnationalgolf.com
Cell:
---