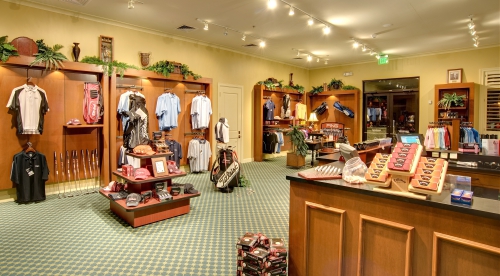 Our Pro Shop is conveniently located in the back of the Clubhouse, near the Driving Range and Back Deck. We offer everything you need for your round of golf, from clothes and shoes to golf balls and clubs.
When looking for new golf clubs or equipment, look no further than our Pro Shop, with our friendly and knowledgeable staff you will feel at ease as they assist you in finding the perfect match of clubs or equipment to improve your game. With our great relationships with major golf brands, we are able to bring you the best from Titleist, Ping & Footjoy to Callaway, Greg Norman & Monterrey Club. We also offer club demo days where you can try out the latest and greatest in golf equipment.
Hours of Operation
Daily from 7:00 a.m. – 6:00 p.m.
Dress Code Policy
Men's Dress Code
Collared or Mock Golf Shirts
Slacks or Shorts Only
Shorts must be Bermuda Length
Denim and Athletic Wear is prohibited
Women's Dress Code
Appropriate Golf Attire
Slacks or Shorts Only
Shorts must be appropriate length
Denim and Athletic Wear is prohibited